PRMS is a robust, mature and full flavored ERP system. What you need is a common base of understanding to take advantage of this powerful, available tool.
If you have an investment opportunity for education and training, this is it.
$498.00 - Network License
$49.95 - Single User  
Self Learning
Train the Trainer
Instructor Led
Multi-user, network friendly lasting reference.
  As your company evolves, your use and application of PRMS should change. To facilitate direction setting, acceptance and implementation of change, your entire user and support base requires a solid foundation of the features and functions available with PRMS. PRMS, All Told delivers that foundation to each and every one. Simply copy to your network storage location and every user with the free Adobe Acrobat Reader can review at any time. Or schedule instructor led classes using the presentation mode as your presenter and printing specially formatted two-sided student workbooks for each student. Without a common foundation of understanding, the list of spreadsheets grows and the obstacles to change increase in number.
  This course covers each of the basic modules in PRMS, organized by the application flow, the major features and functions and the reports and inquiries that support the applications. It's navigation and styling makes it easy for even the most novice users to understand the concepts and benefits to the company. The content is strong enough to enlighten even your power users to new opportunities and improvements. Almost every detail is accompanied by a 'click for more' annotation, narrating the importance of the item and hidden facts known only through years of experience.
  No matter whether you preference is self-learning, instructor led courses or ad hoc search and retrieval, PRMS, All Told provides a lasting knowledge base for your entire company at less than the cost of a single day of consulting. Because it is network and multi-user friendly, it truly is;
PRMS Expertise at your fingertips!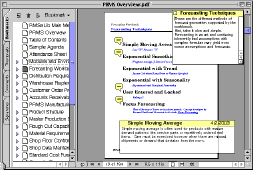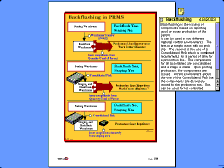 Audience
             All users and decision makers that work, touch or direct PRMS including executive management
Goals  
             Understand what is meant by an integrated system,
             Understand the features and functions offered by PRMS and the applicability to your business,
             Understand where key opportunities are available and comprehension of the efforts required to pursue.
Topics Covered
             All features and functions within PRMS core modules
Instruction Methodology
             Instructor led or self-review
Number of Pages -  184
Ever since version 8.3 and through 9.2, we have held a standard that marks each new feature/function with the number of release. This has two great benefits for you.
1) No matter what version you are on - you know immediately whether the subject matter is applicable or not to your specific environment.
2) Do a search on the release number, 9.1 for example and simply click 'Next Highlight' for a selected review of items referenced to that release.
All in the simple to use, application standard of Adobe Acrobat. So no matter which preference you have for referencing your mods, we're friendly and lasting.
Manufacturing Systems, Controls and Procedures Consulting
 Educational Product Development
PRMS is a trademark of Infor Global Solutions. RMSeLib, RMS/Teachkit, RMSTrain and RMS/Present are trademarks of MXB.